It's your company or your life — literally — in The Mill. The latest thriller in Hulu's Huluween lineup gives new meaning to work burnout. Purposely claustrophobic and unsettling, it's more than edgy enough to provoke thought, even if the film often feels forced when trying to get its main points across.
The Mill chronicles the torturous plight of Joe (Lil Rel Howery), a polished businessman working at a mega corporation named Mallard. If Google, Amazon, and Apple had a threesome, it would be this company. But Mallard is a selfish lover all around. More "give me, give me" than symbiotic flirt. One day, hard-working Joe suddenly wakes up in an ominous open-air concrete cell. How he got in this prison-like structure is not quickly revealed, but the reason he's there becomes painfully clear: He must meet a daily work quota by pushing a grist mill around in circles from early morning to late at night. Failure to do so means termination. In this case, literally.
Oh, symbology and metaphor abound in The Mill, which was penned by Jeffrey David Thomas and directed by Sean King O'Grady. It's a gritty tale, and one you'll feel compelled to see all the way through, regardless of how disturbing it is.
Lil Rel Howery at His Best
To be sure, The Mill is Lil Rel Howery's film. He's one of the very few actors in it. The star of Vacation Friends 2, Poker Face, and Get Out delivers a tour de force performance here, infusing Joe with exasperating desperation and fluctuating confidence. Upon realizing what he's up against, Joe begrudgingly ventures forth with the task at hand. Mallard — omnipresent and appearing digitally high on a concrete wall — keeps track of how many revolutions of the mill Joe makes, constantly monitoring his daily progress. Think micromanaging boss and multiply by a 10,000.
Soon enough, Joe discovers he's not alone in this dilemma. With no proverbial water cooler in sight to stoke workplace conversation, Joe relies on a vent in his chamber and begins dialoguing with a fellow "employee," who's been at this sort of thing for a while. Joe is shocked to learn what has transpired: a gaggle of employees are in the same boat he's in. The worker who makes the lowest contribution — the least revolutions in their individual grist mill — is put to death.
Related: Exclusive: The Mill Director Wants to Change Your Life and Break the System
So much for tenure. Further feeding Joe's growing fear is the fact that he has a pregnant wife at home. His endless protests to the all-powerful Mallard only results in monotone comebacks from the Mallard's digital intelligence. Basically, Siri's cousin is a real bitch here. At one point, Joe hears the wretched end-of-the-day terror of somebody being tortured and, it appears, killed for delivering the lowest performance. Ouch. What to do? Joe's smart. He decides to double his daily output to stay alive. This generates a curious aftermath because, well, now the corporation knows you can do more, and expects you and other employees to perform better, too. Workplace metaphor. Wink wink.
A Different Kind of Psychological Horror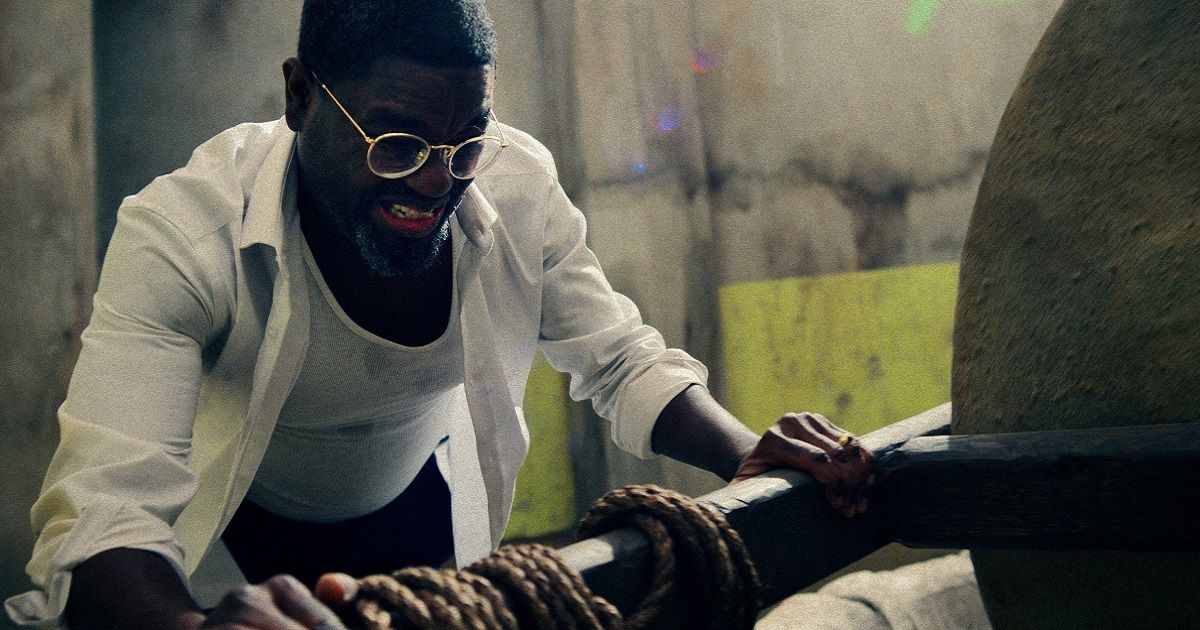 The Mill does a great job of using a single location to create an effectively creepy psychological horror film. If you recall the intensity of the exceptional film, Inside, starring Willem Dafoe, The Mill offers something similar. In this case, capitalism and your day job are your biggest enemies, wearing you down — to the bone.
Sean King O'Grady, whose previous outings include Our American Family and We Need to Do Something, handles this confining film with discernment, knowing when to open things up creatively via dreamy flashback-type sequences and other methods. Presenting Mallard as an eerie, heartless beast is played well. Screenwriter Jeffrey David Thomas' (All American: Homecoming, Titans) script is focused and engaging, yet oftentimes too forced. The angst expands in the film's second half. It's obvious the point Thomas wants to make, but this is a one way in/one way out kind of film. It recalls the maddening perplexities in some of the storylines of The Handmaid's Tale, where there never seems to be a bright light in sight.
Related: These Are Some of the Best Movies About Class Consciousness
As for Lil Rel Howery, the man brings a believable level of grit and exasperation to the role. It's a commanding performance, and after watching the film through its entirety, it's hard to imagine another actor who could have captured all the right emotional beats required here. There are several moments when watching Howery that you realize he's delivering an Emmy-worthy performance. It will be interesting to see if his role here will be taken seriously enough by the Emmy Gods.
The Mill also stars, however briefly, Pat Healy (Station 19) as one of Joe's coworkers and Karen Obilom (Games People Play) as Joe's wife. The film's ending delivers a haunting if not sobering twist. Viewers may be divided by it, and it's best to experience that and gab about it amongst yourselves afterward. Despite some of its forced messaging, overall, The Mill is a compelling psychological thriller with a commanding performance from its lead and plenty of intensity and damning social commentary to go around. Give it a spin.
The Mill premieres October 9 on Hulu.